Ultrasurf is a product of Ultrareach Internet Corporation. Originally created to help internet users in China find security and freedom online, Ultrasurf has now become the world's most popular pro-privacy, anti-censorship software, with millions of people using it to bypass firewalls and protect their identity online.

Why Use Ultrasurf?
» Bypass firewalls
» Encrypt your activities
» Circumvent censors
» Mask your IP address
» No installation required
» Untraceable
» Fast page loads
» Easy to use



**Kegunaanya adalah apabila tempat yang anda berkerja atau belajar block internet untuk download pages or Facebook, anda boleh guna software ini tanpa dikesan oleh

ADMIN



[Mirror]

========================================================================



IDM Optimizer : Tingkatkan Kelajuan IDM Dengan Satu Klik!



IDM Optimizer..satu tool/aplikasi bersaiz kecil yang telah dicipta oleh anak muda dari Indonesia, sebuah negara yang anak-anak mudanya berbakat besar dalam bidang komputer, hacking dan pemprograman..kalau dilihat pada kreditnya, ia tertulis 'by zmachmobile'..jangan tanya Mr.Hac la ya siapa dia..memang Hac tak kenal langsung..tapi sungguh Hac berterima kasih kepada beliau atas tool yang amat mudah digunakan ini..






Cara Menggunakan IDM Optimizer:

1. Pastikan anda tutup (exit) IDM terlebih dahulu.
2. Klik pada Maximize Now! (yang Hac letakkan kotak warna merah tu)
3. Restart IDM anda (buka semula IDM)
4. Selesai!
5. Cuba muat turun mana-mana fail..

P/S: Tolong berikan feedback anda setelah menggunakannya ya..Hac nak buat survey..

Klik ---> IDM Optimizer [Mirror]

========================================================================



Kaspersky PURE Trial Reset.exe
We've already covered, How to use Kaspersky Free after end of 30 days trial period? Theresetting kaspersky process discussed before was bit typical and required users to perform many steps manually. A nice and simple Kaspersky Reset Tool is here, shared bybrandon via comment, which allows you to Rest Kaspersky easily in a few clicks.

Kaspersky Trial Reset Tool (KTR911 by Nikko) is designed to reset kaspersky trial period and lets you use Kaspersky free after end of 30-day trial. The tool supports: Kaspersky PURE, Kaspersky Antivirus 2010, Kaspersky Internet Security 2010, Kaspersky Antivirus 2011, and Kaspersky Internet Security 2011.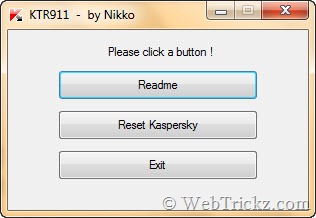 To use the tool, you first need to Disable Self-Defense (Open Kaspersky settings > Options and uncheck Enable Self-Defense. Click Ok.) Then Exit Kaspersky from the system tray, run the KTR911 tool and click "Reset Kaspersky". Now follow the steps as suggested by the reset tool.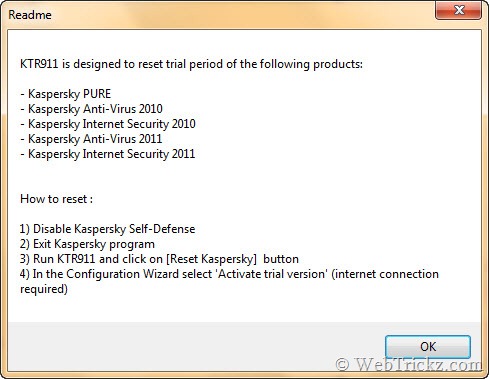 Update – Download KTR911 Reset Tool v10 [100% Safe & Portable]
NEW - KTR2012 – Kaspersky 2012 Trial Reset Tool

Microsoft Windows 32-bit and 64-bit editions supported.
[Link]